There is nothing better than cauliflower. It honestly has to be one of my most favourite vegetables of all time! It is entirely versatile and entirely nutritious!
Cauliflower is a cruciferous vegetable meaning it has anti-carcinogenic properties as well as anti-inflammatory and antioxidant properties. Cauliflower is very high in vitamin C, with one serve providing you with approx. 3/4 of your daily vitamin C requirements. It is also a good source of vitamin K and dietary fibre.
While cauliflower rice has been around for a little while now, I have been a little slow to join the bandwagon. However, the other day I crossed that bridge. I had a half cauliflower head in the crisper crying out to be used and low and behold, I made cauliflower rice.
I did not follow a recipe, rather I went off what I felt would work, as I normally do. Now, this could have ended up in one of two directions: (a) working well or (b) an entire disaster. I am glad to report to you that (a) working well was the direction it headed.
This curried coconut cauliflower rice will go perfectly with a protein source. You could also mix through some lentils to make it more of a nutrient dense side.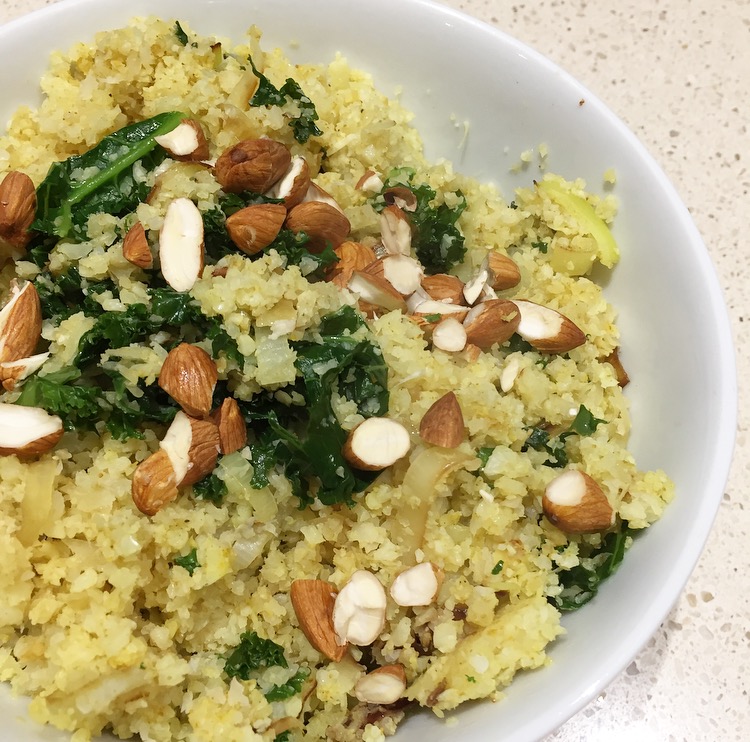 Here is the drill:
Serves 4 as a side.
Ingredients:
1/2 cauliflower, broken into florets
1 leek, sliced finely
3-4 kale stalks, de-stemmed and shred the leaves
Coconut oil (or olive oil)
Curry power (I like Clive of India)
Shredded coconut
Almonds
Method:
Blitz the cauliflower so that it breaks down to the consistency of rice.
Heat coconut oil in a pan and sauté leek until softened.
Add cauliflower and sauté for a few more minutes until it starts to soften.
Add curry powder (to taste) and mix through well.
Add the shredded kale leaves and mix well. Cook until wilted.
Transfer to a dish and serve warm garnished with almonds and shredded coconut.
Enjoy!
For other cauliflower inspired recipes you can try: a warm veggie-packed salad and a super green smoothie.
SaveSaveSaveSaveSaveSaveSaveSaveSaveSaveSaveSaveSaveSaveSaveSave
SaveSaveSaveSaveSaveSave
SaveSave
SaveSave
SaveSaveSaveSave