Welcome to part 3 of my series of what actually constitutes a serve of specific fruits and vegetables. We know what they are, we are consuming them, but are we consuming enough…?
See back to my previous serving example post here and here.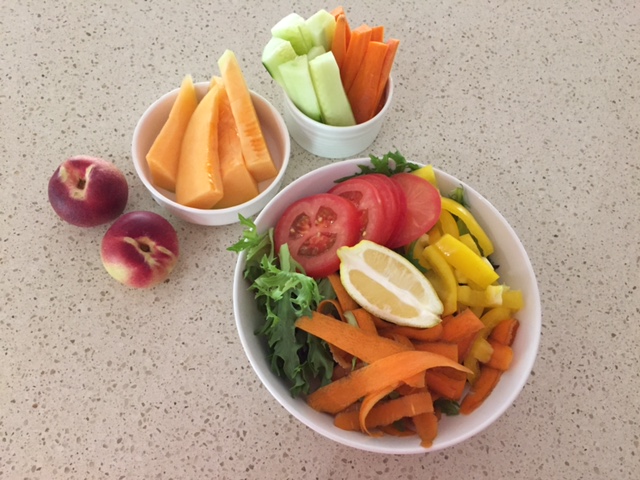 This picture shows a generous portion of 2 serves of fruit and 5 serves of veg. This constitutes a days intake:
2 Fruit:
2 small nectarines
1 cup rockmelon
5 Vegetables:
2 cups mixed leafy greens
1 tomato
1 cup yellow capsicum
1 carrot
1 cup cucumber
This is actually 6 serves of vegetables as there are 2 cups mixed leafy greens.
These vegetables provide for the perfect salad base for your lunch or dinner. All it needs now is a serve of protein (beans, fish, poultry, meat, cheese…), some good fat (avocado, nuts/seeds, olives), some complex carbohydrate (brown rice, quinoa, wholemeal/wholegrain bread…) and some dressing if thats how you like it (olive oil, lemon juice, dijon mustard, apple cider vinegar are some of my favourite mixes).
Getting your 2 & 5 isn't a chore. Changing it up everyday also makes things more fun. Here, I've used half the carrot in my salad and the other half I have leftover with my cucumber to put with some dip or nuts for a snack! Who said healthy eating was hard…?
Happy day lovelies Xx