Cool wintery nights definitely call for warm salads, chocked full of all the good green stuff!
If you haven't got the gist yet, I love salads. However, when its cold outside, some nights I cannot stand the idea of a cold garden salad and I don't have the time to wait for a whole lot of vegetables to bake. This dish is a compromise. It combines the idea of a lovely light salad with that of warm, sautéed greens. I mean, what is there not to love!
This salad would pair well with some grilled protein.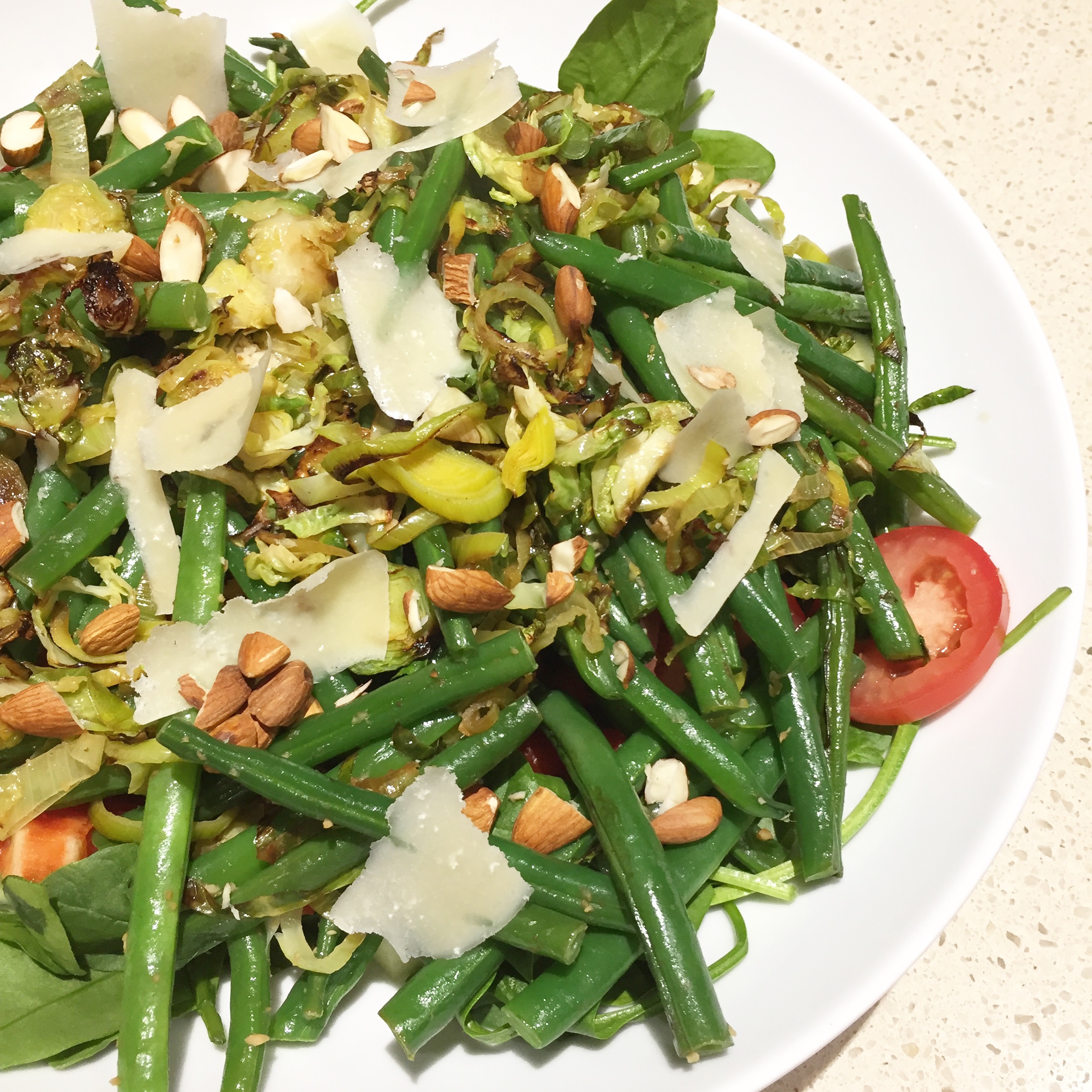 Serves 5-6 as a side.
Ingredients:
3 decent handfuls of long green beans, ends trimmed
1 leek
3 decent handfuls of brussels sprouts, sliced finely
Spinach leaves
3 roma tomatoes, sliced into rounds
Olive oil
Butter
Parmesan cheese (optional)
Nuts/seeds/fetta to garnish (optional)
Method:
Cover the base of your serving dish with spinach leaves.
Lay the sliced Roma tomatoes out over the top.
Heat a pan with some olive oil and a small knob of butter.
Add the leek to the pan and sauté until soft.
Add green beans and brussels and sauté until soft. You may need to add a little more butter if you want them extra caramelised. I tend to wing it a little bit!
Once cook, transfer to your dish with the spinach and tomato.
Toss slightly and garnish with your choice of ingredient. I used some fresh sliced parmesan cheese and some almonds.
Enjoy!
For other salad recipes you can try: a herby and nutty quinoa salad, a roasted broccoli and cabbage salad and this crunchy rainbow slaw with a pomegranate and dijon dressing.
SaveSaveSaveSaveSaveSaveSaveSaveSaveSave
SaveSaveSaveSave