I have been on a bit of a cabbage run lately. I love the humble cabbage and am enjoying all that it has to offer! Its a cheap and versatile vegetable packed full of so many nutrients. My favourite way to enjoy it is roasted, hence, why I am sharing this most fabulous side dish that I created the other evening.
Tune in to my previous Food of the Week: Cabbage for all its amazing health benefits.
In the mean time, let me introduce you to my roasted cabbage wedges with a fabulous garlic tahini drizzle.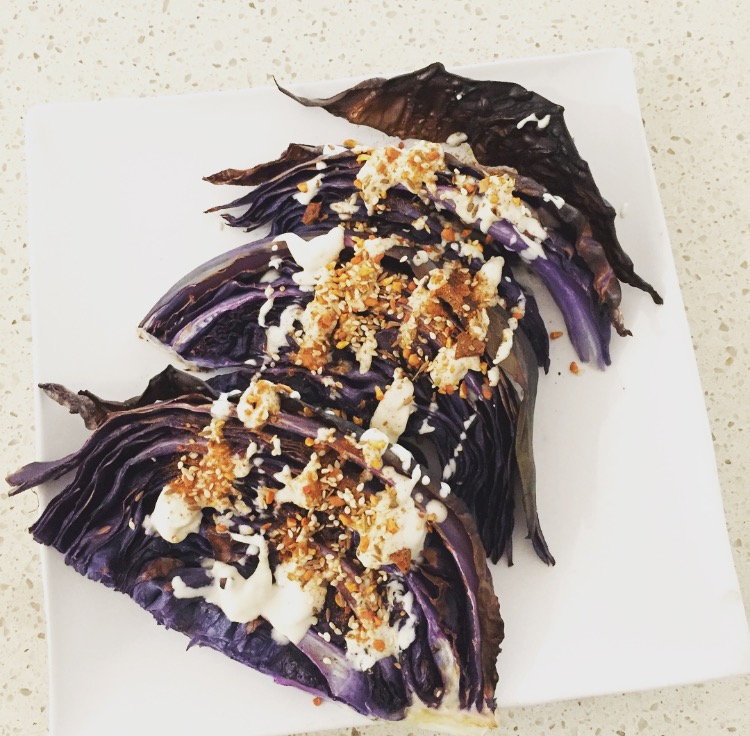 Serves 3 as a side.
Ingredients:
1/4 cabbage, sliced into 3 wedges.
Olive oil
Salt and pepper
1-2 heaped tablespoons tahini
2 cloves garlic, crushed and minced
1 lemon, juiced
Water
Optional: Dukkah or mixed seeds.
Method:
Preheat oven to 180 degrees.
Arrange cabbage onto a baking tray.
Drizzle with olive oil and season with salt and pepper, to taste.
Roast until desired. I usually roast for 30-40 minutes, until the outside is crispy.
In a separate bowl, combine the tahini, lemon juice and garlic. Mix well.
Add small amounts of water to this dressing until desired consistency is reached.
Arrange cabbage on a plate and drizzle with dressing.
Optional: Sprinkle with seeds or dukkah.
Enjoy!