I love pumpkin. Its orange, its so incredibly versatile, and it tastes amazing.
It's also full of so many health benefits – such as its high in fibre, zinc, sulfur, vitamin A, phytosterols, protein and tryptophan. Being rich in these nutrients means that pumpkin gives us better immunity, better digestion, clearer skin, reduced cholesterol, stronger hair, better eyesight, stronger teeth and bones…the list goes on.
Did you know that eating pumpkin can technically make your happier? Being rich in tryptophan, pumpkin will aid your sleep and mood as well as help create serotonin, our feel good hormone.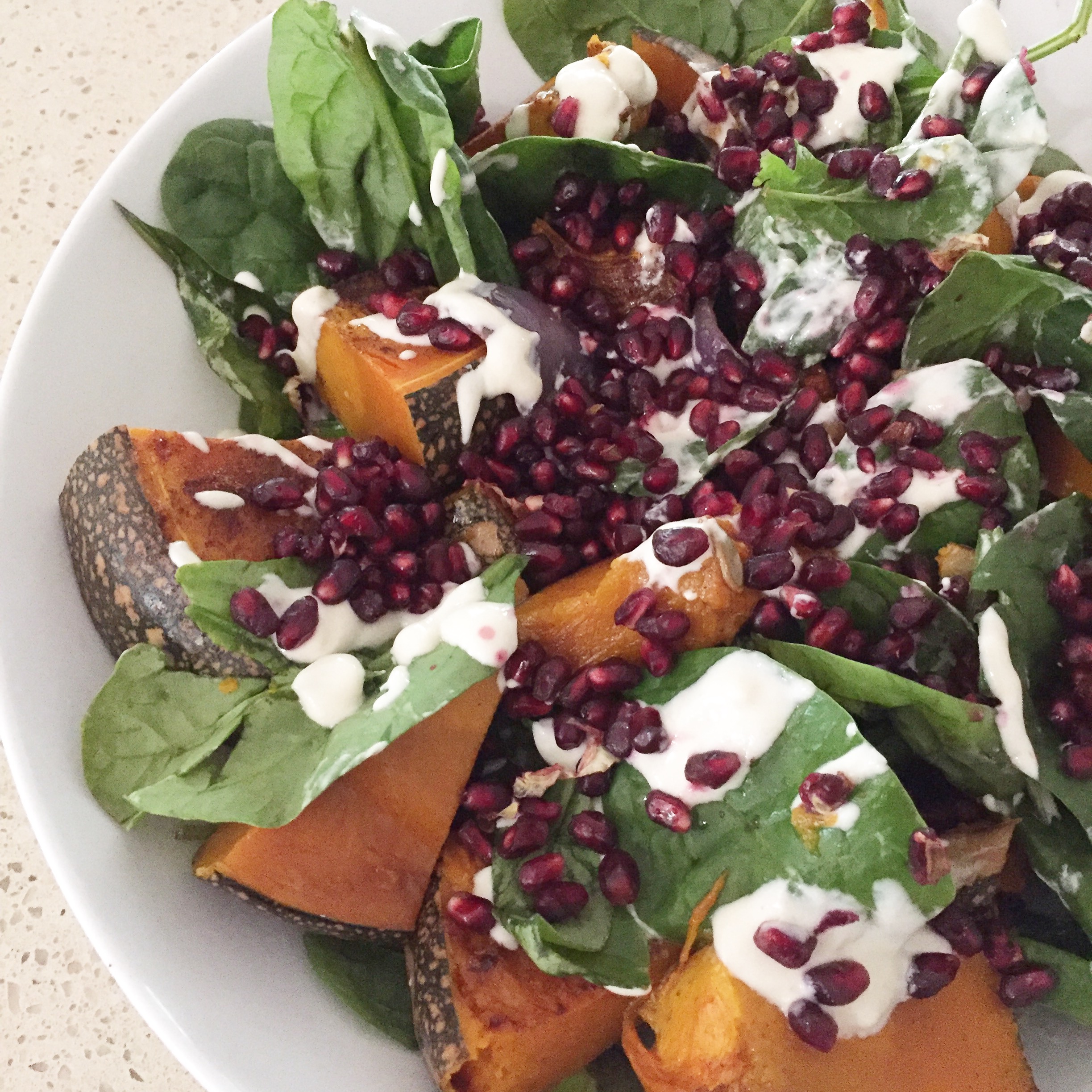 Serves 4-6.
Ingredients:
5 decent handfuls of baby spinach.
1 red onion, sliced into wedges.
1 pomegranate, seeds removed.
1 wedge pumpkin, any variety.
Cinnamon, to taste.
Olive oil.
3T tahini paste.
1 lemon, juiced.
2/3 cup Greek yoghurt.
Fresh parsley, to taste.
Salt and pepper, to taste.
Method:
Preheat oven to 180 degrees. Slice pumpkin into wedges and place flat on a baking tray. Add the onion too. Drizzle all the vegetables with olive oil and the pumpkin with cinnamon. Bake until cooked – usually 35-40 minutes.
Assemble the leaves in a bowl. Add the cooked onion and pumpkin.
Sprinkle the salad with the pomegranate seeds.
Serve with the dressing on the side or drizzle it on the salad.
Enjoy!
Notes:
I leave the skin on my pumpkin (Hello extra fibre!) but feel free to take it off.
I usually leave the dressing on the side for people to serve themselves, but for the purpose of this photo, I drizzled it over the whole salad.
For a dairy free version of the dressing, omit the yoghurt and just stir tahini and lemon until well balanced and combined.
I served this salad with slow cooked lamb, but it would suit most proteins.