Breakfast, it's probably my equal favourite meal of the day (on par with lunch and dinner!).
However some mornings it can be an absolute chore to ensure a balanced meal full of fibre, good fats, protein and complex carbohydrates. Especially when you've got the dog to walk, the kids to feed and prepare lunches for and the odd last minute catastrophe!
Today, I am busting that myth out of the park! Breakfast doesn't need to be boring! Breakfast doesn't need to be a chore! What I want you to take from this post, if anything, is that breakfast is not worth skipping! It will only wreak havoc on our energy balance over the rest of the day and leave us fatigued, irritable and unproductive.
Here are some simple ideas that you can try to 'break-that-fast'.
For days when you have a little more time up your sleeve:
Optima Health Balance Breakfast.
This is probably my favourite breakfast of all time. I ensure I make time for my breakfast, so I would have something similar to this most mornings. This plate is abundant with all things good fats, fibre, quality protein and complex carbohydrates. It's a smorgasbord of health! It often includes the following:
2 eggs
2-3 decent handfuls of greens – e.g. kale, silverbeet, spinach, leek
2-3 mushrooms
1 tomato
1/4-1/2 avocado
1-2 toast of choice
salt and pepper, to taste
I sauté the greens and mushrooms first. Then I remove from the pan and crack in my eggs. I serve with a sliced raw tomato and 1-2 slices of toast with avocado. The good thing about this breakfast is that it's so balanced, hence, it often keeps me going until lunchtime – which is perfect as my mornings are usually incredibly busy! On really time poor days, I pre-boil my eggs, which reduces preparation time a little.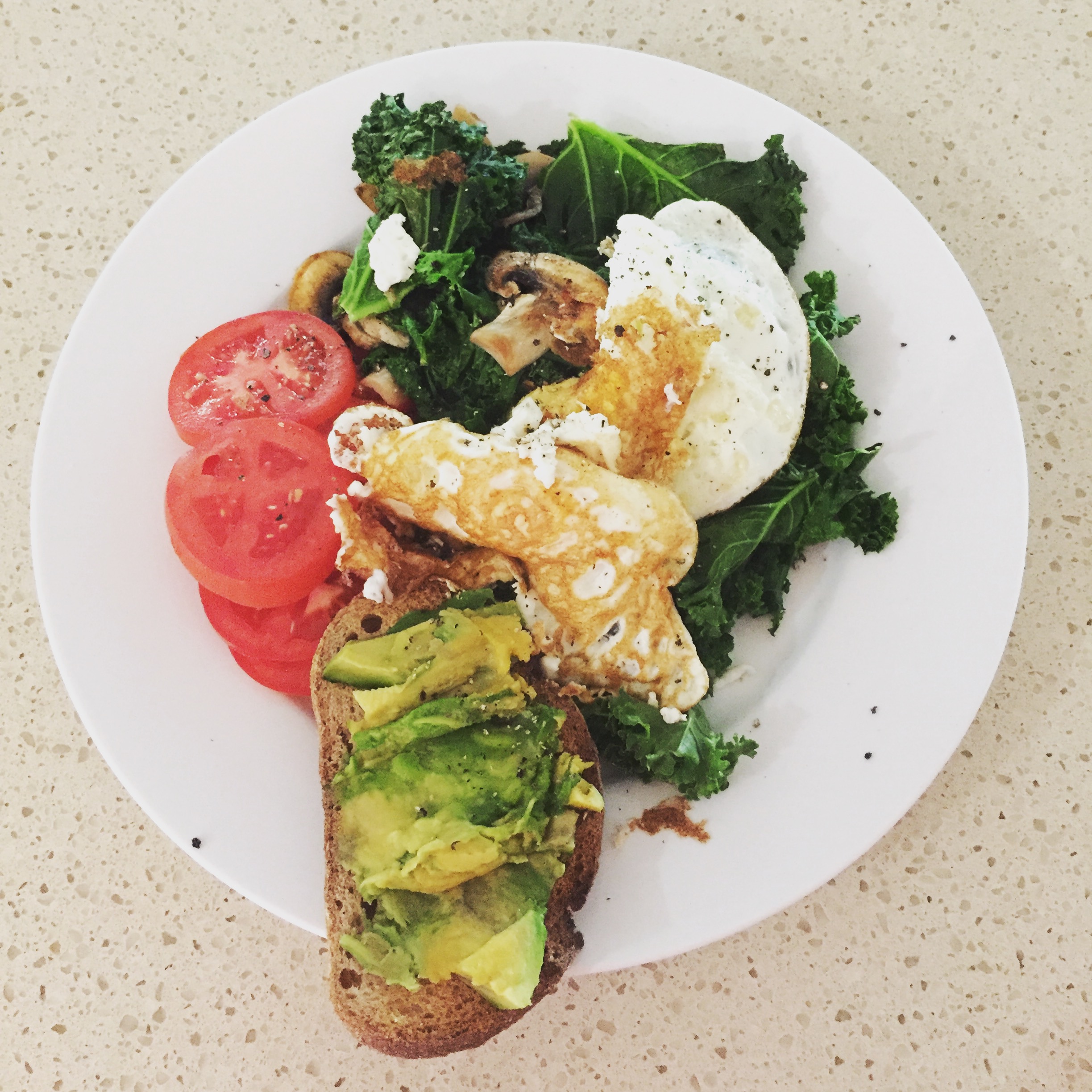 Good ol' fashioned porridge.
It hits the nail on the head every time! Porridge gets 10/10 in the soul-warming category. It is the perfect way to start a cool, rainy Winters morning.
My usual recipe is 1/2 cup oats with 1 cup of liquid (usually half water and half almond milk). On days when I'm super hungry, I rid of the water and use 1 cup almond milk. When the oats are just about cooked, I slice a banana and stir it through so that it softens a little. Once finished, I transfer to a bowl and top with some nuts/seeds, cinnamon and often a little honey or nut butter. Another variation I like, is to stir through some grated apple.
Healthy Banana Oat Pancakes.
My Godmother introduced me to this recipe and there is certainly no looking back! You can find the recipe here.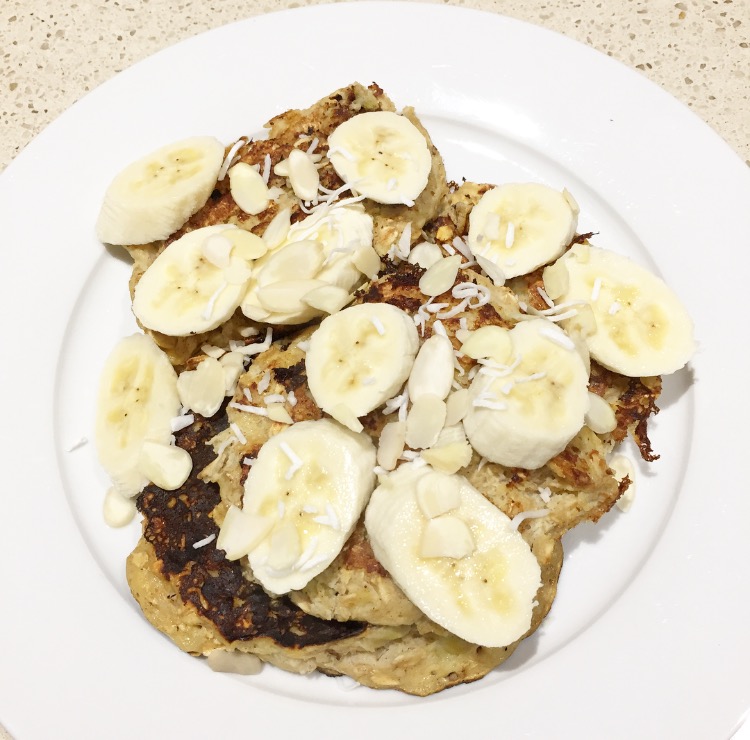 For when you're in a bind or pushed for time, prepare these in advance:
Overnight Oats.
These are the perfect portable breakfast and/or snack. Overnight oats are a nutrient dense breakfast option and are full of fibre, protein and good fats. Not only are they super easy, they're also budget friendly and can be prepped in advance and made to your own liking! What is there not to love!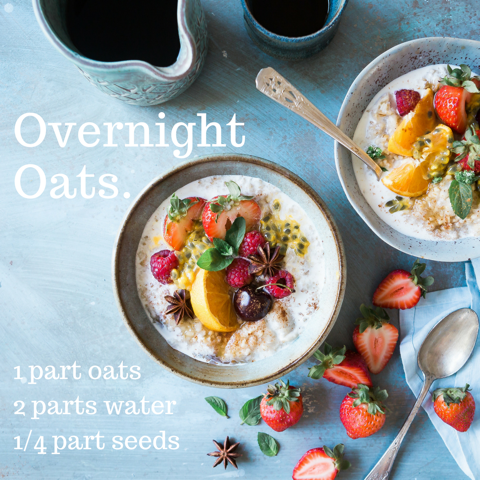 The photo shows the basic ratio and you can top/flavour to your hearts content. A personal fave combo; 1/2 cup oats, 1 cup almond milk, 1-2 tablespoons chia seeds and a dash of cinnamon. Chill overnight. In the morning, I then top with a banana or berries and a spoonful of nut butter.
Breakfast ANZACS.
This has been a go-to of late for snack time. These little beauties are the perfect healthy treat and if not for snack time, they make a perfect portable breakfast for those days when you just don't have the time. What's more is that they take so little time and effort to prep and cook in a matter of 15 minutes or less. These ANZAC biscuits are made using a recipe from Wholefood Simply, which if you haven't visited her site, a must do! They are made of simple wholefood ingredients and what I especially like is that you will likely have them in your pantry!
To make them a little more decadent, sometimes I stir through the dark chocolate pieces prior to baking.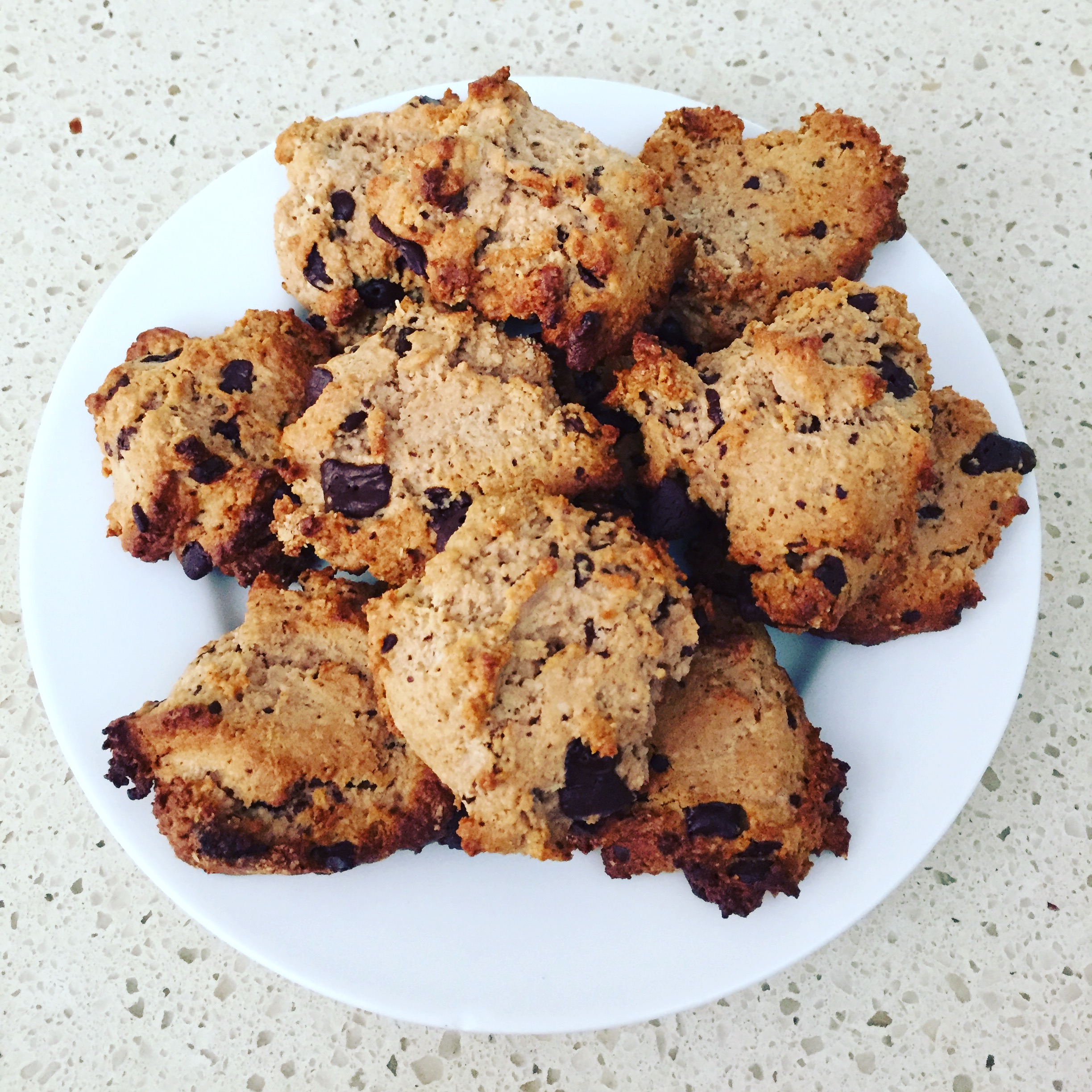 Super Green Smoothie.
In the warmer months, there is nothing like a cool smoothie packed full of all the good stuff to start the day. In the cooler months however, I cannot stomach one first thing in the morning so if I am having one, I make it as a snack later in the day.
I make mine nutrient dense and ensure good balance between all components.
This smoothie is a favourite recipe and includes the following:
2-3 decent handfuls of greens – e.g. kale, silverbeet, spinach
1/2 frozen zucchini
3 florets frozen cauliflower
1 frozen banana
1 tablespoon chia seeds
Small knob of ginger
1 cup almond milk
Put all ingredients in a blender, blitz and drink! Sometimes I add more liquid during the blending process, if needed, but I generally prefer my smoothie thick, they're more satisfying. I often follow this down with a couple of boiled eggs or a handful of nuts, to ensure a protein source and therefore stable blood glucose.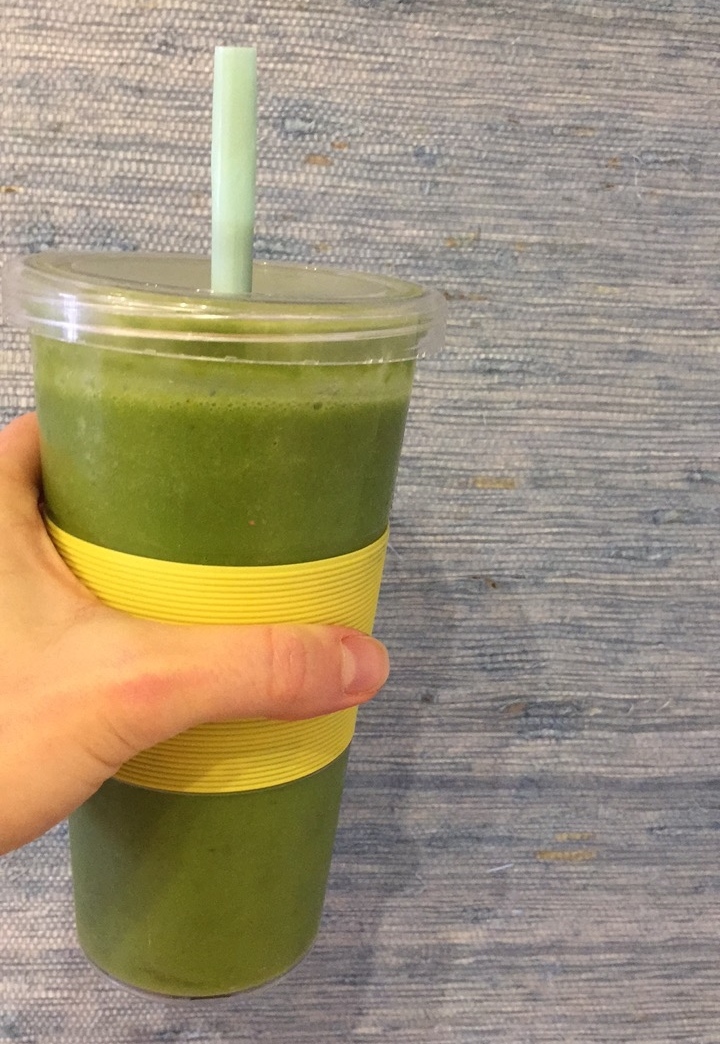 Healthy Banana Oat Muffins
Have some old, mushy bananas? These muffins are so fluffy and moist and are the perfect way to use up those not-so-appealing-to-the-eye bananas you have sitting in your fruit bowl. I use a recipe by Cookie and Kate (another great site to check out!) and sometimes add some cacao nibs. A must make!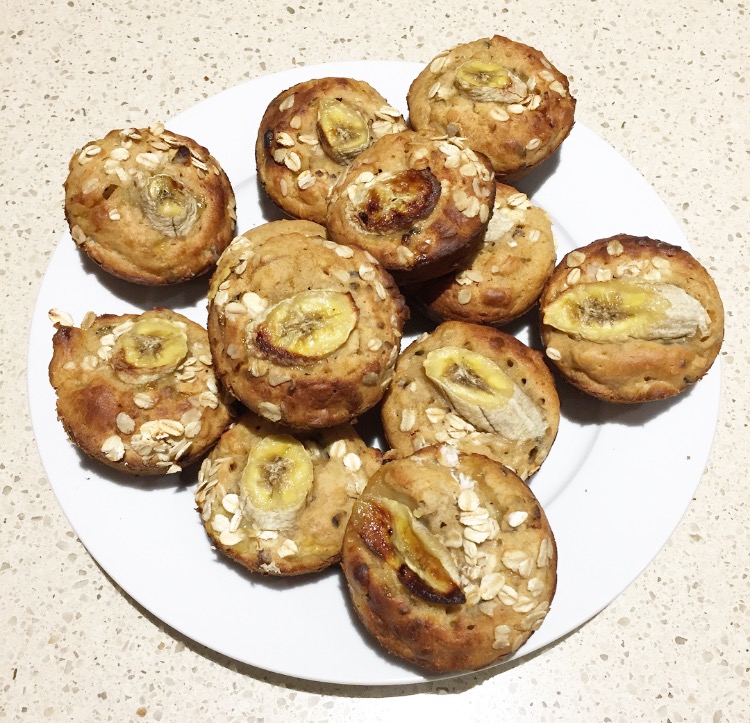 Other great ideas:
Pre-boiled eggs on avocado toast or with sliced veggie sticks.
Savoury muffins with veggies.
Zucchini slice or breakfast fritters.
Pre-cooked quinoa with fresh scrambled eggs and herbs.
Healthy homemade muesli or trail mix with fruit.
Vegetable and herb omelette.
Sardines or salmon on toast with tomato and avocado.