Hello lovely friends and Happy WA day long weekend.
I love WA. I actually really do. We have the most amazing state, filled with some of the best landscapes you will ever see in world. We have the most amazing people from all walks of life. We may be the most isolated but what we lack in geographical appropriateness, we make up for in having the best Mediterraean-style weather (I mean its low to mid 20s and sunny for the whole first 10 days of winter!) and the best coastlines and beaches. We also have our bronzed mate Eliza who takes up her home on the Swan River along Mounts Bay Rd and has more outfits than the average human with an actual beating heart! We have this thing (i.e. a wind pattern) called the Freo Doctor, which aptly hails from the general Freo direction and exerts the same general healing effects likened to a visit to your GP. We're all about the quokka selfie and not to mention Rottnest…well thats in its own category of awesome! We are easily identified by our driver's arm tan or sunglasses tan or socks tan or thongs tan. We even have our own language 'No worries', 'Yeah, nah' or my personal favourite and most used 'Yes, no', which does actually mean yes, but with the handy addition of the word no to enhance its depth of meaning. However, in saying that, this is likely a whole country thing. But this weekend is all about WA.
We do also have our down sides (like expensive most things, we have the innate inability to share driving lanes nicely and we have one too many shark friends who love visit the mainland)…but lets not dwell on those, seeing as its a weekend of WA celebration.
So moving on…and back to the reason for this post in the first place. Nothing like a good side story.
You're going to love this recipe. Before these beauties, I probably hadn't had a pancake in about at least a decade. No joke. Since healing my body of persistent symptoms related to terrible allergies (see my personal health story here) and removing gluten and dairy its been a hard yard trying to find a) a pancake that is suitable for me; b) one that is made of ingredients that I actually want to put into my body and c) one that doesn't leave me feeling so full and bloated for the rest of the day ahead.
Low and behold, I was introduced to these beauties by my lovely Godmother last weekend. If you know me, I love simple food, I don't need the latest and greatest 'superfood' ingredients. I love making the most of the foods I have lying around and of those that are most accessible to me. This recipe does just that.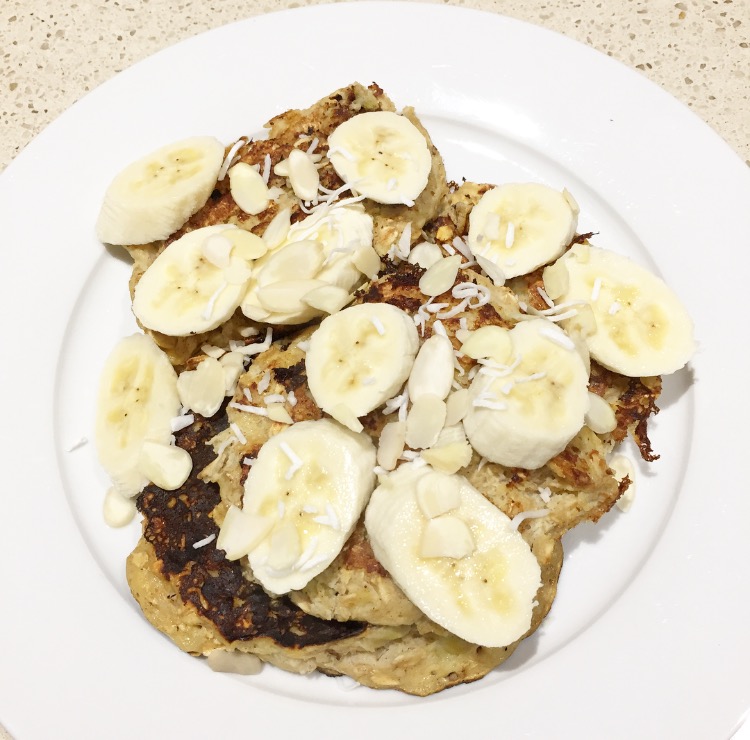 These beauties are made of 3 major ingredients – banana, oats, and eggs with the little help of old mates cinnamon and vanilla for a little natural flavour enhancement.
While you have to excuse my photography (I am the epitome of photo novice), I trust that what they lack for in looks they make up for in taste.
The basic recipe is this one.
The following list is credited to the recipe above.
Ingredients:
2 ripe bananas
2 eggs
1 teaspoon vanilla extract
1/2 cup quick oats. I used rolled oats. I would think quick oats would make a less dense pancake, but I prefer rolled as they keep me fuller for longer.
1 teaspoon cinnamon. I love cinnamon so added a smidgen more.
Optional: add 1/2 cup blueberries instead of cinnamon for a blueberry-banana version. Add in 1/4 cup nut butter and 1/4 cup dark chocolate chips instead of vanilla and cinnamon to make a nut butter chocolate chip version.
Method:
Mash bananas in a large bowl until smooth. Mix in eggs and vanilla until well combined, then mix in oats and cinnamon.
Heat a frypan to medium and add in a scoop (see note) of the pancake batter. Smooth out to form an even layer. Cook for about 2 to 3 minutes until you start to see bubbles releasing from the top of the batter. Flip and cook until the other side is golden brown, about 1 to 2 minutes.
Garnish your pancakes with your favorite toppings! I used banana, some shredded coconut and slivered almonds.
Note: Use ½ cup for scooping the batter to yield 4 thicker pancakes; Use ⅓ cup to yield 6 smaller pancakes.
Enjoy!