This is a crowd pleaser type of salad. Its got crispy iceberg lettuce amongst mixed leaves, crunchy almonds, soothing parsley, shredded chicken and so much more. Make extra and save for lunch the next day…your stomach will thank you!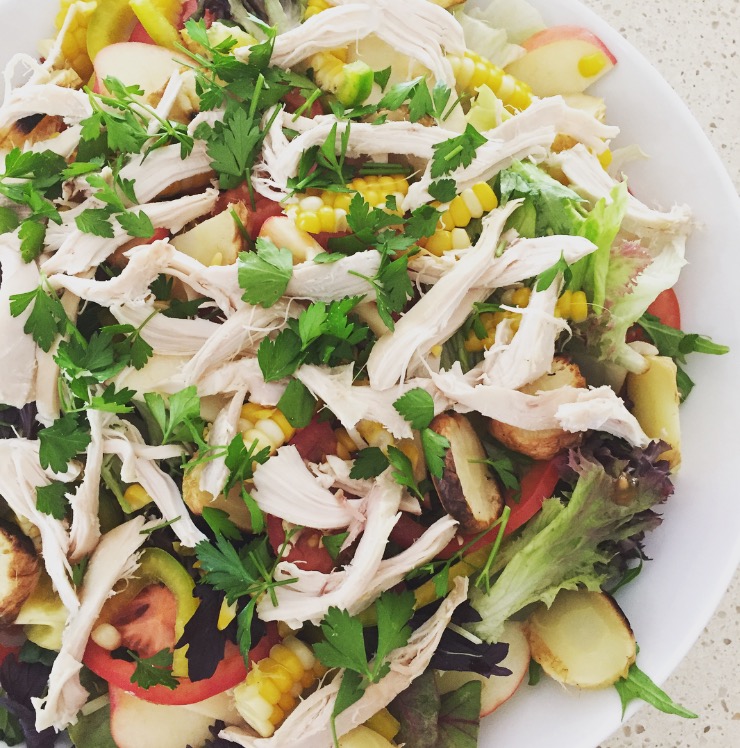 Serves 4.
Ingredients:
5/6 decent handfuls of mixed greens. I used what I had in the fridge/garden: rocket, spinach and iceberg lettuce.
2 fresh tomatoes, sliced into discs.
1 cob of corn, steamed.
1/2 continental cucumber, diced.
1 red capsicum, diced.
1 apple, sliced into discs.
Fresh parsley, to taste.
Spring onion, to taste.
1/2-1 avocado, cubed.
Almonds, roughly chopped.
Goats cheese (optional)
2 chicken breasts, shredded. Alternatively, a free range hot chicken from your local supermarket will do (I won't lie, this is what I used here!)
Olive oil
Salt and pepper
Method:
Assemble all the salad ingredients in a bowl and toss slighty.
If cooking the chicken, heat a pan over medium-high heat and warm the olive oil.
Add the chicken to the pan, season with salt and pepper and cook for 5-6 minutes on each side or until cooked through. Shred with two forks when cool.
Add the chicken to the salad.
Enjoy!
Notes:
I'm not a big sauce/dressing girl, but I added some tahini here and it tastes delish!
Another option for a dressing is a healthy vinaigrette. This Detoxinista dressing is fabulous and uses 1/4 cup apple cider vinegar, 1/3 cup olive oil, 1T dijon mustard, 1 minced garlic clove, 1-2t raw honey or other sweetener of choice and a squeeze of fresh lemon.
For my vegan/vegetarian friends, opt for a legume instead of the chicken.