I've touched on the nutritional benefits of quinoa before and this week it was a feature in the first ever edition of the Optima Health quiz on Instagram. Hence, I thought it timely to post a salad featuring this most brilliant grain. This is my broccoli and quinoa salad. Its nutty, its fruity, its plain delicious and easy to make too! Give it a go, adapt it to your taste buds. This is a nutritionally dense meal option and is perfect for lunches or dinners and for any member of the family. Scroll down for details.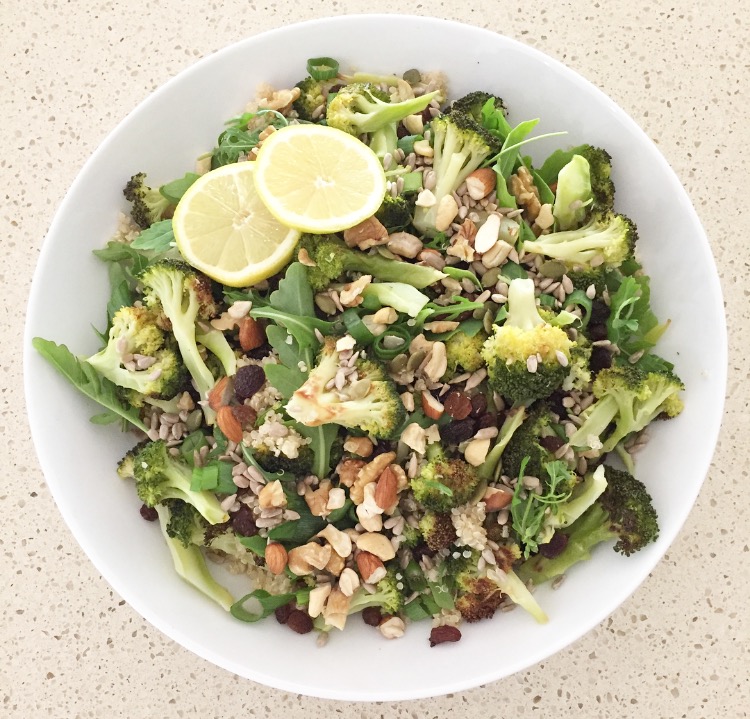 Serves 4-6.
Ingredients:
3-4 decent handfuls of rocket
1 cup quinoa, rinsed and cooked
2 heads broccoli, broken into florets
1-2 handful/s of sun-dried raisins
1-2 handful/s of roasted nuts/seeds. I used walnuts, almonds and sunflower seeds as that is what I had.
2 sprigs spring onion, finely diced.
1 lemon, juiced
Olive oil, to taste
Salt and pepper
Method:
Preheat oven to 180 degrees. Place broccoli on a tray, drizzle with olive oil and season with salt and pepper. Place in oven and cook until desired.
Add the rinsed raw quinoa to a saucepan of 2 cups water. Bring to a boil and stir often until cooked (water is dissolved).
Assemble rocket in a bowl. Add the spring onion.
Add cooked quinoa and broccoli.
Garnish with raisins and nuts/seeds.
Dress with olive oil and freshly squeezed lemon. Stir well.
Enjoy!
Notes:
I like my broccoli cooked well (slightly brown), but you can do it however your like.
My salt of choice is pink Himalayan, but again, use whatever you like.
I served this salad with slow cooked lamb, but it would suit most proteins.
SaveSave