For my first 'Ask Alex' I am answering a question on my daily diet. What I munch on and when I munch on it? For the purpose of this, I have split it up seasonally, as my diet does change with the seasons. It is important to note that we all have different genetic makeups, different heights, different weights, we move differently, we are different genders and are at different stages of our lives…all these factors are extremely important in identifying an individuals needs. What I document here is purely for your reference. What may work for me, may not necessarily work for you. My nutrient needs could be the totally opposite to yours. So I do advise you to take this with a grain of salt. My main aim is to use food and nutrients to inspire wellness and educate those around me on the best choices specific to their needs. I hope you find this useful in your own way and remember, if you have any questions or wonder how this can be applied to you, ask away, I am always willing to answer!
My health philosophy involves everything in moderation. I guess if you had to categorise it, it would fall into the 80/20 category where I favour 80% nourishing whole foods (good grains, fresh produce, quality meats…) and 20% healthy treats such as dark chocolate, healthy cookies, gelato (mmm!). I truly believe that healthy eating starts in the mind. It involves our emotions; the way we think and the way we feel. I have learnt to trust my body, give it what it wants as well as what it needs. Health to me, is a lifestyle, its not a quick fix. I have made it my mission to live the healthiest life I can which includes room for indulgence. I live an active lifestyle. I love to move my body, but I watch to not overdo it too. Sleep is my number one health non-negotiable. I need a good 8 hours most nights to feel and work at my optimum.
When it comes to food, I tend to be a creature of habit. My breakfasts are almost always the same, my lunch almost always involves some form of salad with a protein source and my dinner too. For breakfasts, I tend to hold on to the same meal for weeks at no end, until one day I cannot stomach it again and I move on to my next dish of choice.
I tend to do one big fruit and veggie shop the week. I go to the market with no set list, rather a mental idea and tend to buy what is on special or on the 'ripe now, half price' shelf. I don't usually work off a recipe, rather I tend to wing it at each mealtime. For example, if I know I have a pumpkin to use or I have a particularly yellow looking broccoli, I just work my meals around that! I find this works best for me, but it may not work best for you. For my general supermarket shop, I work in a similar way. I buy the meat that is on special and plan my meals around that.
When its really hot, I steer clear of the oven. It adds too much heat to the house. On these days, I favour more raw food than cooked. Crunchy salads full of raw carrots, cabbage, capsicum, tomato, cucumber, sprouts etc…, yummy cooling smoothies full of frozen ingredients and barbecued based meals with grilled meats and veggies.
This is snapshot of my summer/autumn dietary patterns.
SUNDAY
My day off! Sundays are my day off at the moment. I love to use this day to recuperate after the busy week and do the things I love most. This day involved a long walk, cooking, a few jobs and an afternoon nap. Twas divine!
Breakfast (7.45am). Heading to the South Perth foreshore this morning to walk bridge to bridge around the Swan River, one of my favourite walks in our brilliant state! This one totals around 10km and takes about 1.5 hours walking briskly. Before hand, I fuelled up with my usual breakfast concoction of late – eggs, greens and avo toast (explained further in the next day).
Snack (11am). Almond milk flat white post walk. I LOVE my coffee but try to limit it to one (occasionally two) each day.
Snack (1pm). Stopped to do the fruit and veg weekly shop and grocery shop on the way home and being surrounded by so much food, I got suddenly really hungry. I ate half a punnet baby grape tomatoes and 2 large marinated artichokes on the way home from the shop.
Lunch (2pm). Didn't get home until now and was absolutely starving! I quickly threw together a salad of spinach leaves, red capsicum, yellow capsicum, lebanese cucumber, carrot, tomato and a small amount of goats fetta. I had some leftover veggie-loaded bolognese mince in the fridge and warmed a small amount to add to my salad. Yum! And to finish, one plum from the fresh market haul.
Dinner (6.45pm). Brisket burgers! Oh my gosh, yum! Having more time on our hands, being a sunday, we slow cooked a brisket for 3 hours. Once done, we pulled it and made burgers (I had my TWO in a wrap). They were loaded with tomato, lettuce, some vintage cheddar, dill pickles and avocado plus the brisket goodness with the onion sauce that we made with it! Divine! The perfect way to end a sunday. I will post this recipe on the blog as its a must try!
Dessert (7.30pm). I have been obsessed lately with velvet latte by Nutra Organics. Its an ayurvedic mix made of beetroot, turmeric, vanilla bean and more. I mix mine with some warm, frothed unsweetened almond milk. Its the perfect warming drink for these cooler nights. In contrast, I do also like to enjoy some frozen mango for dessert lately. I just pop a handful of frozen mango pieces in a bowl and eat. So yummy and completely satisfies any sweet craving I may have.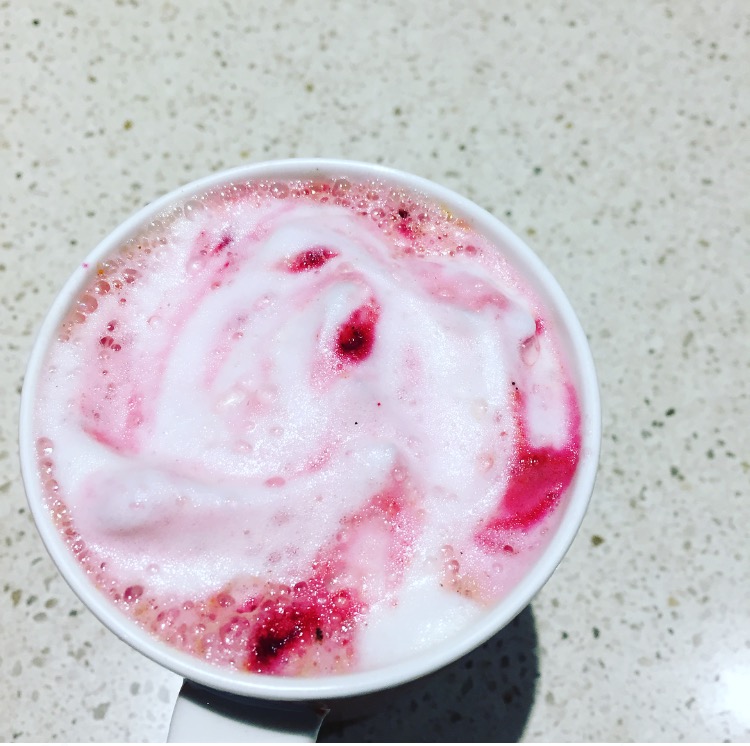 MONDAY
Breakfast (8.30am). Just got back from a lovely morning bush walk. Before heading out the door, I downed a black coffee to get me going. On returning, I cooked up my 'breakfast of the moment'. This involves frying up a couple of sliced mushrooms and around the equivalent of 4-5 stalks of kale leaves  in some olive oil. Once done, I transfer to a plate and add in 2 scrambled eggs mixed with a dash of unsweetened almond milk to cook. I eat this with a piece of Strange Grains Bakery Gluten Free bread (at the moment I have the multiseed sourdough loaf) with avocado and 2 small roma tomatoes sliced. Sounds like a lot but I am always hungry in the morning! Plus, my body isn't satisfied without eating something decent in the mornings.
Snack (10.55am). Hungry again! Made my favourite smoothie snack of the moment. Its the green, lean, hunger-pang fighting machine! 1 frozen banana, handful frozen spinach, handful frozen cauliflower, handful spinach and a big dash of unsweetened almond milk.
Lunch (1.30pm). Today I had some leftover dukkah chicken and made a rainbow nourish bowl for lunch. This had dukkah roasted chicken tenderloins, carrot, capsicum, spinach, tomato, cinnamon roasted pumpkin, roasted white sweet potato, half a roasted parsnip and a big spoonful of my homemade sauerkraut.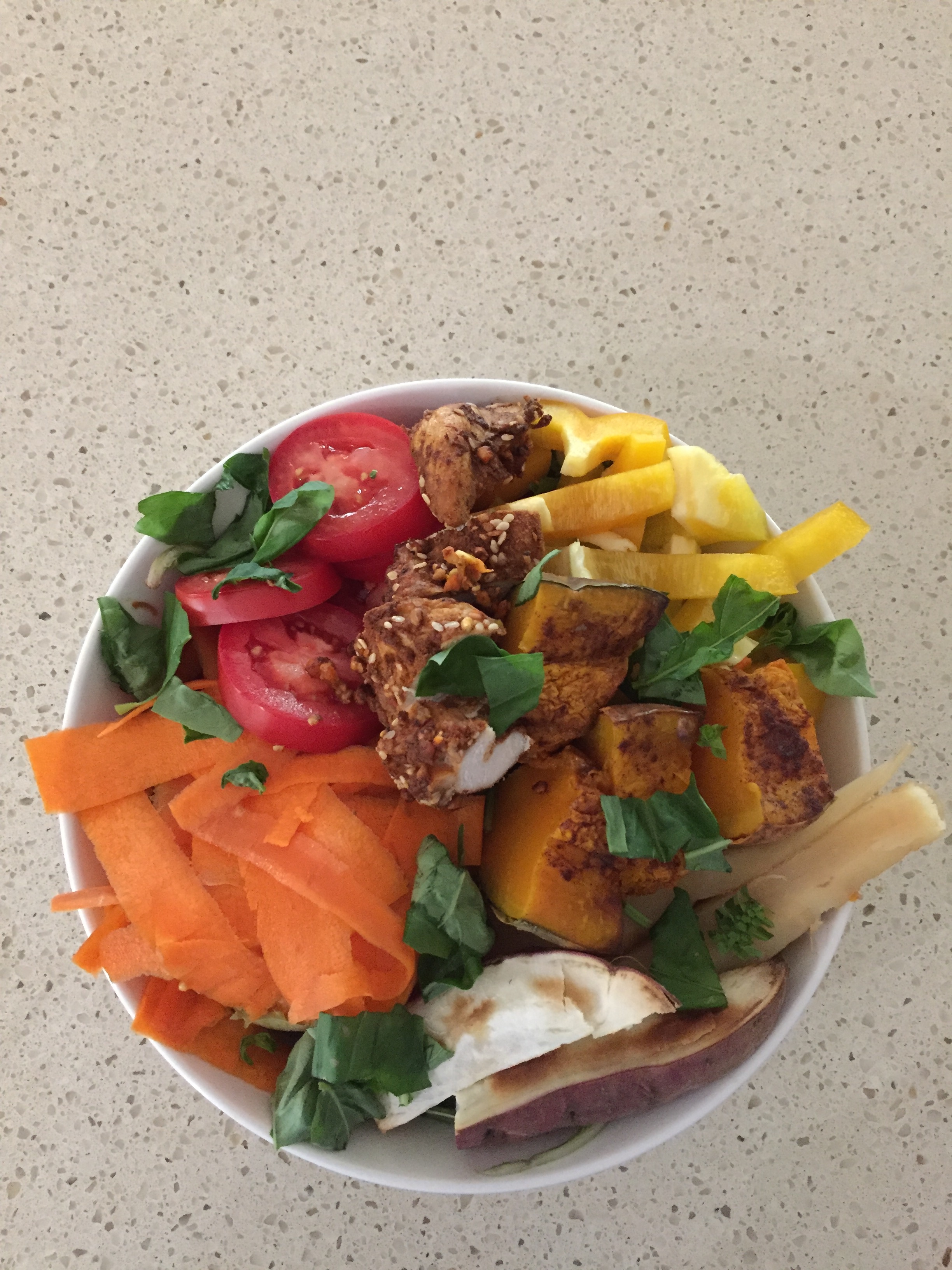 Dinner (6pm). At one of my work commitments until late tonight. On these nights, I don't cook, I eat what is cooked at work. We are lucky that it is highly variable and nutritious. Tonight I ate chicken thighs with a mustard marinade, peas/broccoli and an assortment of salads.
TUESDAY
Breakfast (8.05am). Another morning bush walk. Once home, I made my usual concoction, see above. But today threw in another small piece of Strange Grains gluten free toast as I was hungry!
Snack (10.35am). A couple of raw carrots. I have been known to spread a small amount of Vegemite on my raw carrots, if I need a salt boost. Don't judge, it actually tastes pretty good.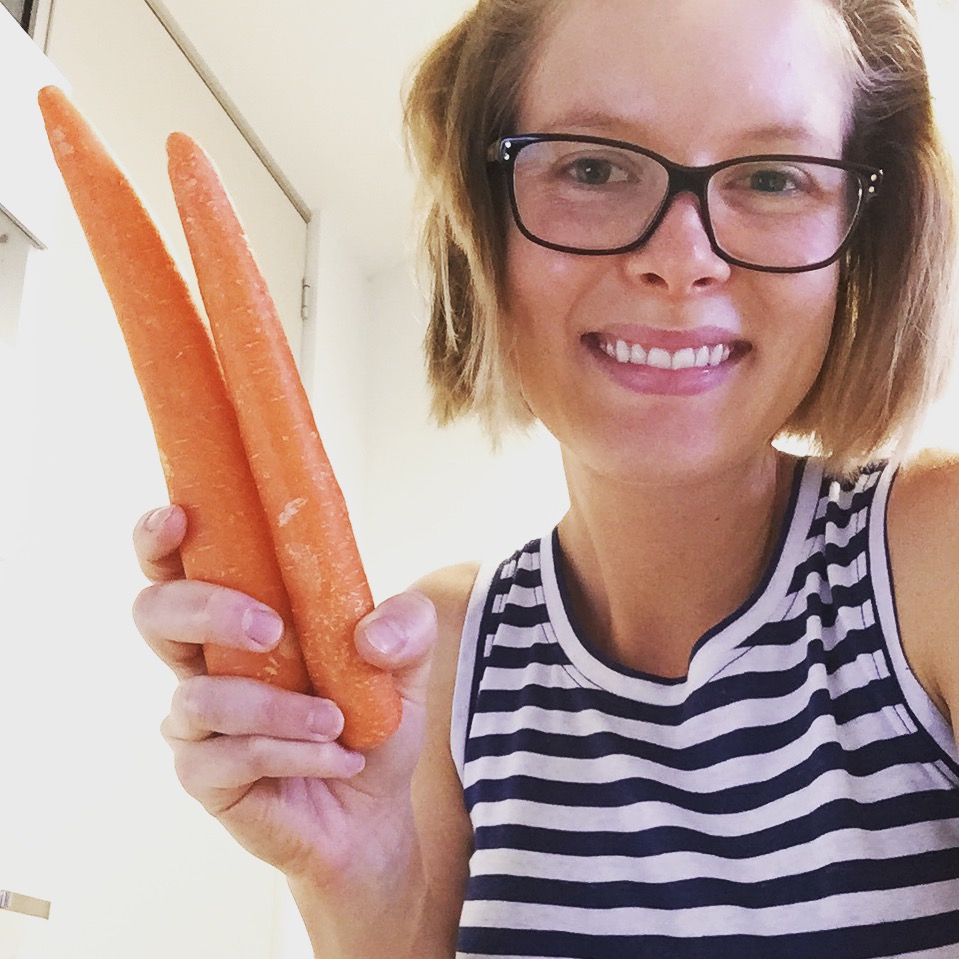 Lunch (12.20pm). Today I had some of my mediterranean salad with some smoked rainbow trout. It had roasted zucchini, eggplant and capsicum sprinkled with almond meal and herbs pre roast. For a quick protein boost on busy days, I often add 1/2-1 tin of smoked rainbow trout from ALDI to my salads. I love this fish and I love the smoky flavour. It is in vegetable oil though, so I make sure to drain it off before I add it to my salad.Yum!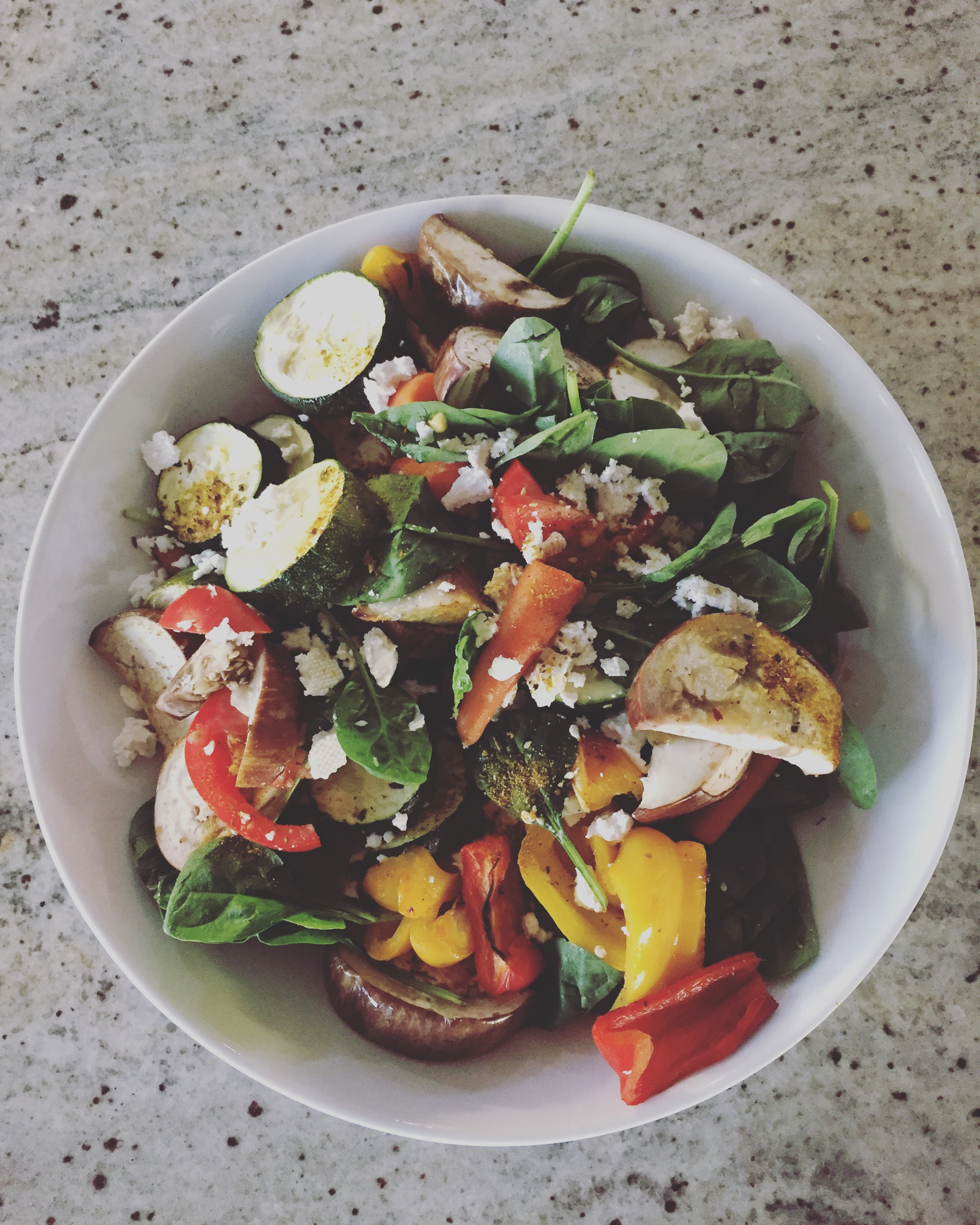 Dinner (6pm). Again at one of my work commitments until late tonight. This is where I ate. Tonight I chose grilled white fish, steamed greens, roasted capsicum and eggplant and a variety of salads.
Dessert (9pm). A cup of peppermint tea and 2 squares Pana chocolate.
WEDNESDAY
Breakfast (8.45am). Slept in after my two late nights. Went for a bush walk and on return, I had my usual with an extra piece of Strange Grains gluten free toast.
Lunch (2pm). At another work commitment so an on-the-go lunch it was. Today I packed a cup of homemade pea and ham soup and a container of salad that I quickly prepped. This had some corn off the cob, capsicum, carrot, tomato, mixed leaves, avocado, cucumber and handful of almonds. I dressed it with a drizzle of extra virgin olive oil.
Dinner (6.45pm). Home from work and starving. Luckily, I had prepped some veggies so just had to cook the protein. I had a fillet of salmon, some of buttery greens, roasted cauliflower and broccoli and some sweet potato wedges.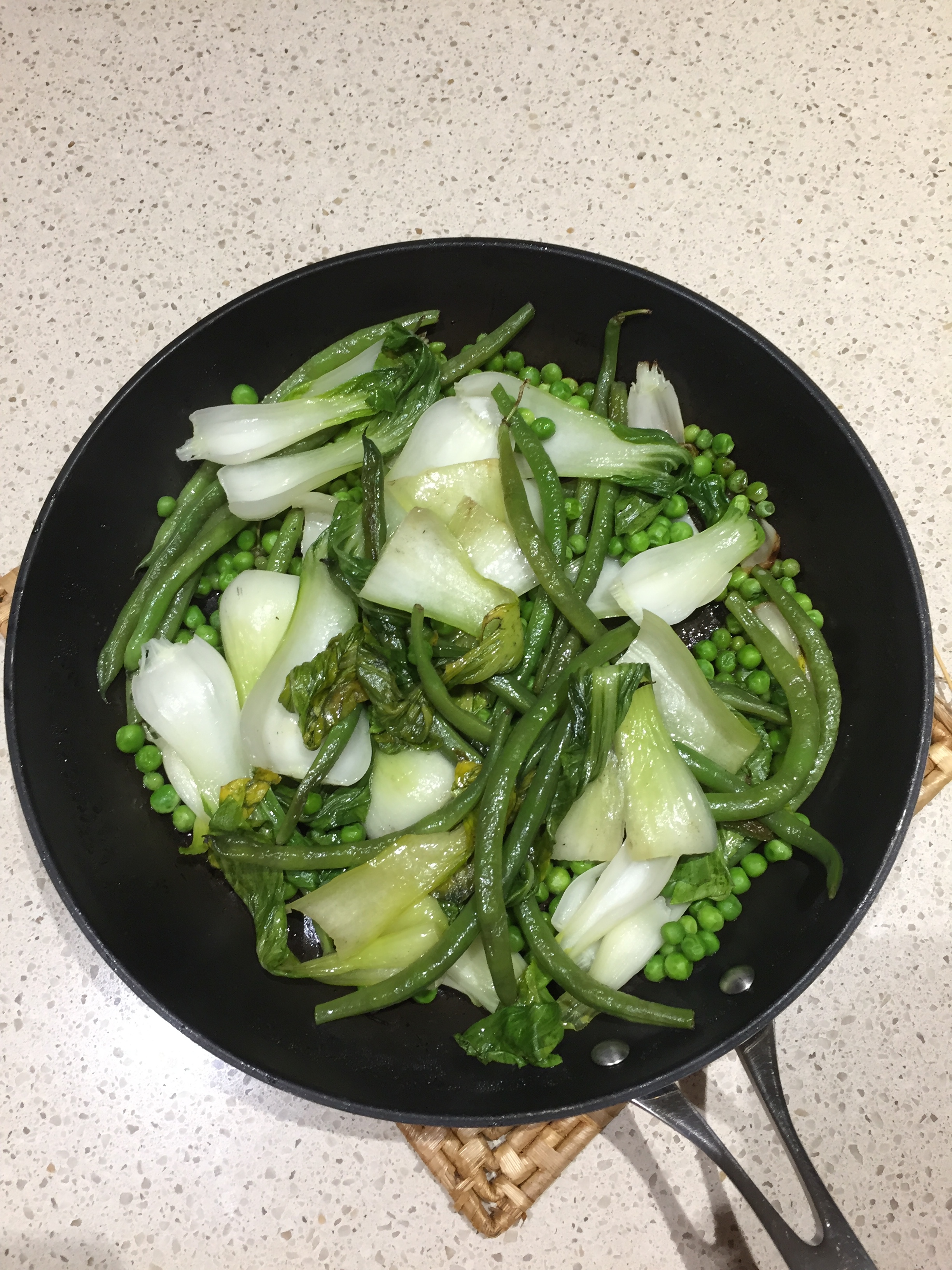 Dessert (7.45pm). A warming cup of my Nutra Organics velvet latte mix and a small handful of frozen mango chunks.
THURSDAY
Breakfast (8am). Early bush walk and the usual with an extra piece of Strange Grains gluten free toast.
Snack (11am). Almond milk flat white and a ripe, juicy plum.
Lunch (1.30pm). At the office, so its a desk lunch today. I was gifted the most glorious figs, so I made a salmon and fig salad for lunch and threw in some roasted sweet potato disks that I cooked up the day before.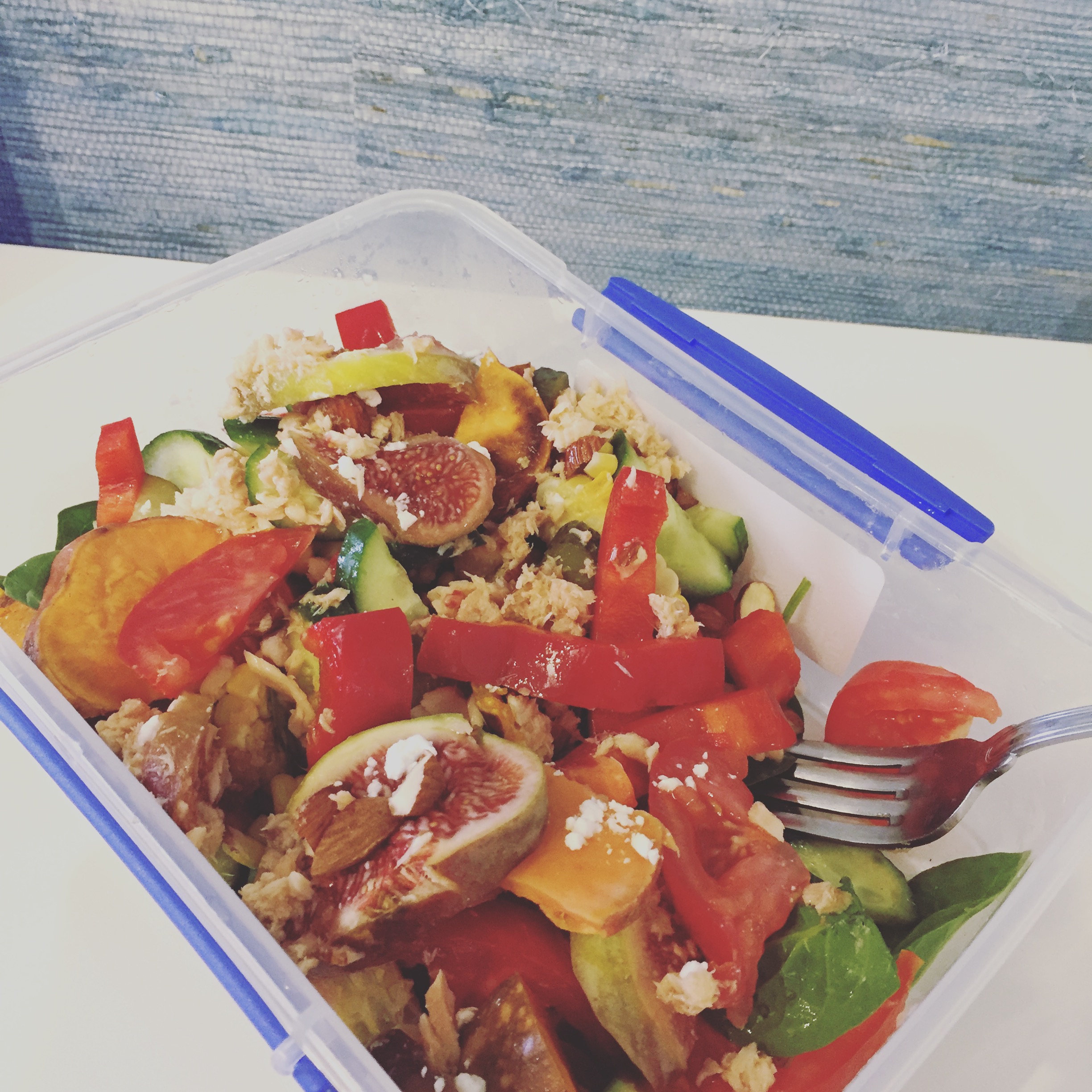 Snack (4.20pm). A small handful almonds.
Dinner (7pm). Green chicken curry! This is one of my most favourite meals. I love curry, any type! I love to bulk my curries up with heaps of veggies. The green chicken curry is the perfect excuse to use up all those floppy greens so I loaded mine with kale, zucchini, broccoli stalks and peas. I had it with some leftover brown rice and quinoa and 2 pappadums (I microwave them).
FRIDAY
Breakfast (6.30am). Early clients means an early start! I made the usual but didn't have mushrooms and subbed kale for spinach.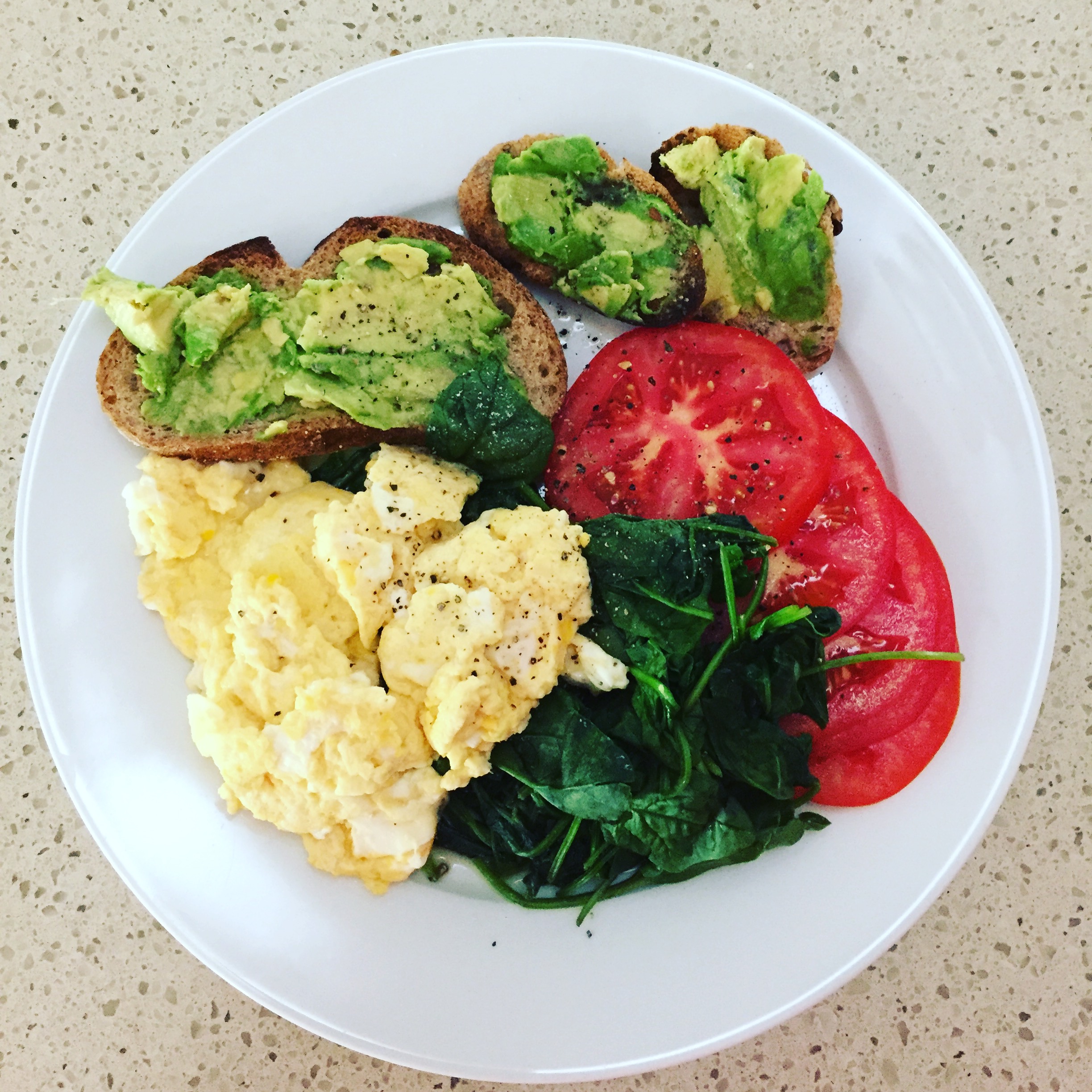 Snack (10am). I took my green smoothie with me to work today. I blended it up at home with a whole bunch of frozen ingredients so it would stay creamy and cold for when I wanted to drink it in a few hours time. This one was the same as Monday with 1 frozen banana, handful frozen spinach, handful frozen cauliflower, handful spinach and a big dash of unsweetened almond milk. Yum!
Lunch (1.30pm). Ate my lunch in the sun today, it was lovely. On-the-go lunch was a green salad, some roasted cauliflower and 1/2 tin smoked rainbow trout and a small handful almonds. I went for a brisk walk around part of Swan River in my break.
Snack (4pm). Carrots and home-made basil and white bean dip. A protein rich snack to keep me going until dinner.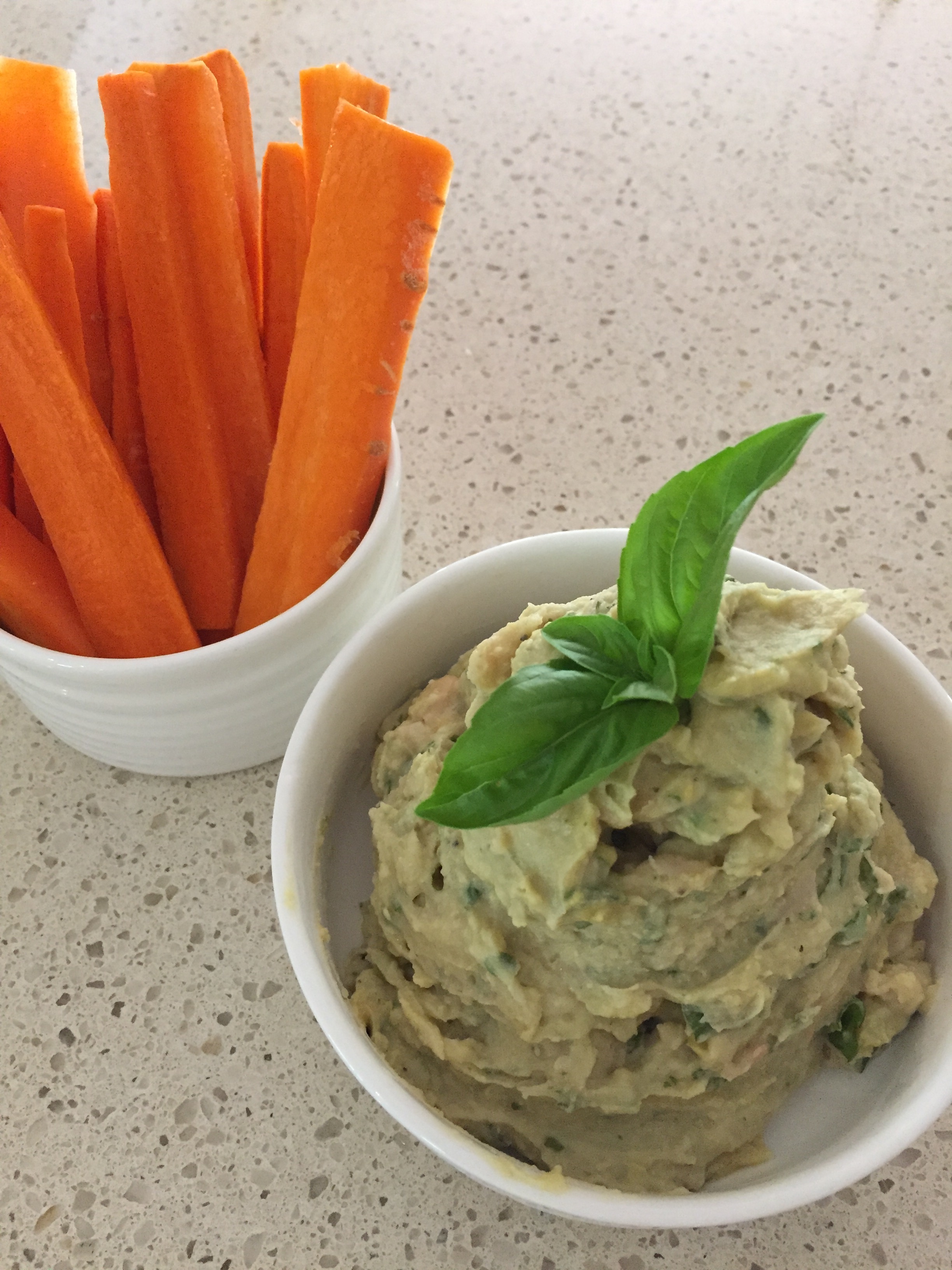 Dinner (6.30pm). Panfried salmon with a quinoa salad.
Dessert (7.30pm). Warm almond milk with a sprinkle of cinnamon. One sliced frozen banana.
SATURDAY
Breakfast (7.45am). Lovely bush walk and the usual breakfast spread.
Snack (10.30am). My green smoothie of the moment!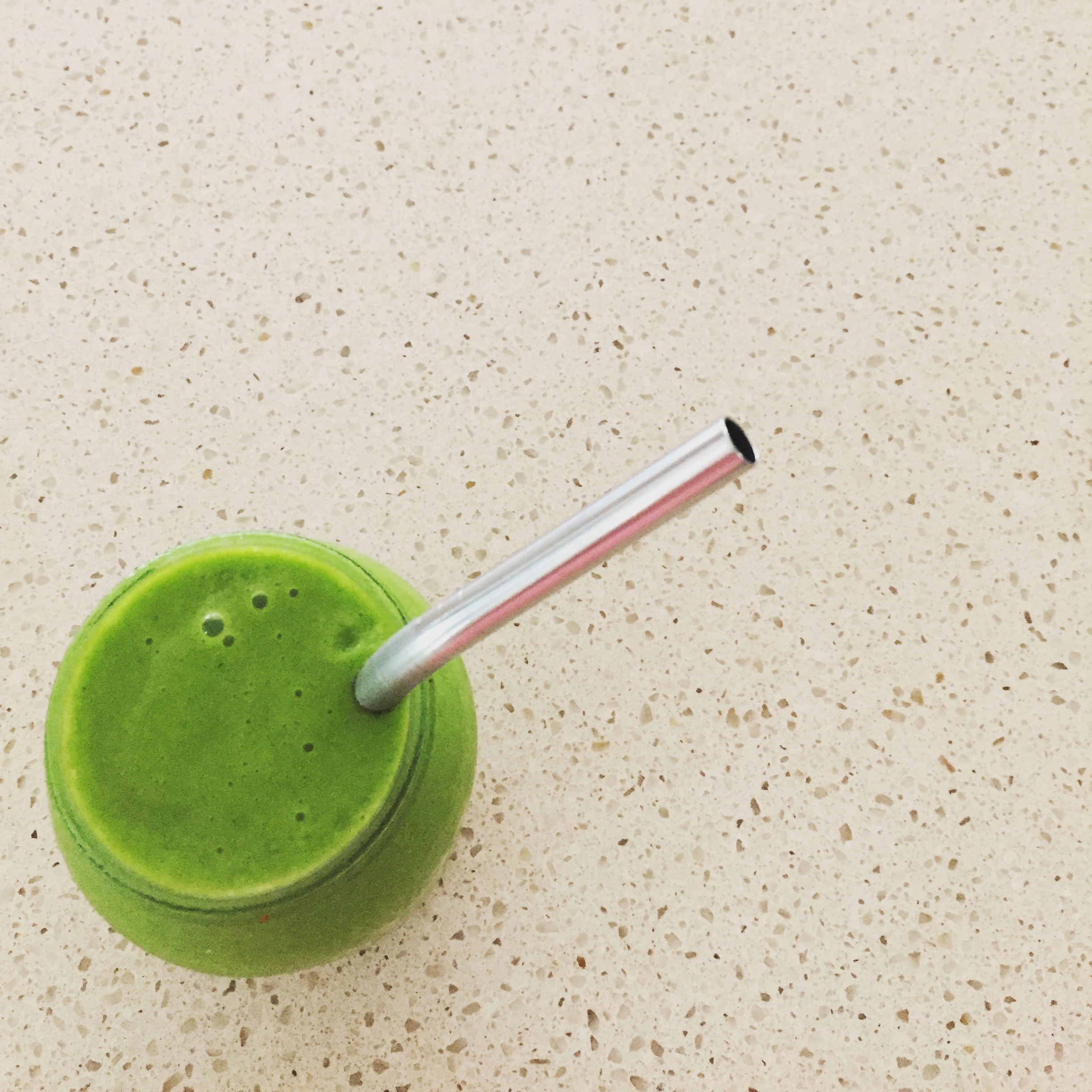 Lunch (12.30pm). A big bowl of homemade pea and ham soup with part of the ham hock from Christmas as well as a big bowl of green salad.
Snack (4.30pm). Carrots with my basil and white bean dip. Again.
Dinner (7.10pm). A barbecue. I love barbecued food! It is one my favourite ways to cook things. Tonights spread had garlic beans, a crunchy rainbow salad, barbecued sweet potato and mushrooms and barbecued tandoori chicken. Yum!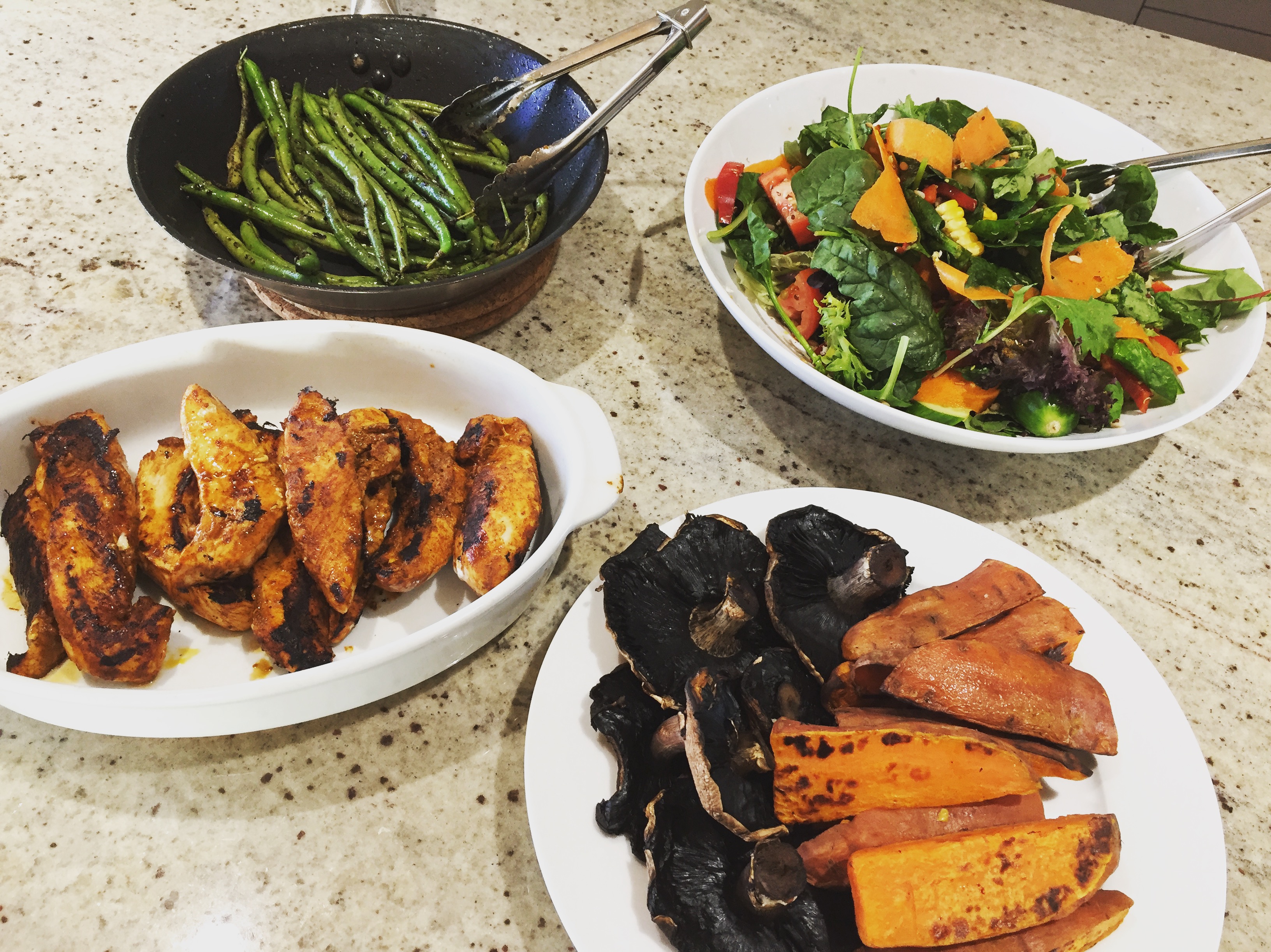 Dessert (8.15pm). A cup of peppermint tea and a big handful of frozen mango chunks.