I love eating with colour and this beauty certainly does not disappoint! A cold weather staple, soup is by far one of my most favourite things to make. Its super nourishing and is also quick, easy and cheap. You can chock the pot full with as many or as little ingredients as you like and let it boil away until desired.
This soup is a super nourishing, throw everything in the pot kind of soup…aka my favourite kind! I use the tops and tails of all my veggies, plus those that are a little saggy or changing colour. With mini pasta's and lentils, this beauty is entirely belly pleasing and keeps me going for hours.
Plus, you'll have leftovers for days or enough for lunch for the week! If you want to make less, just half the ingredients.
Probably yields around 8-10 big serves.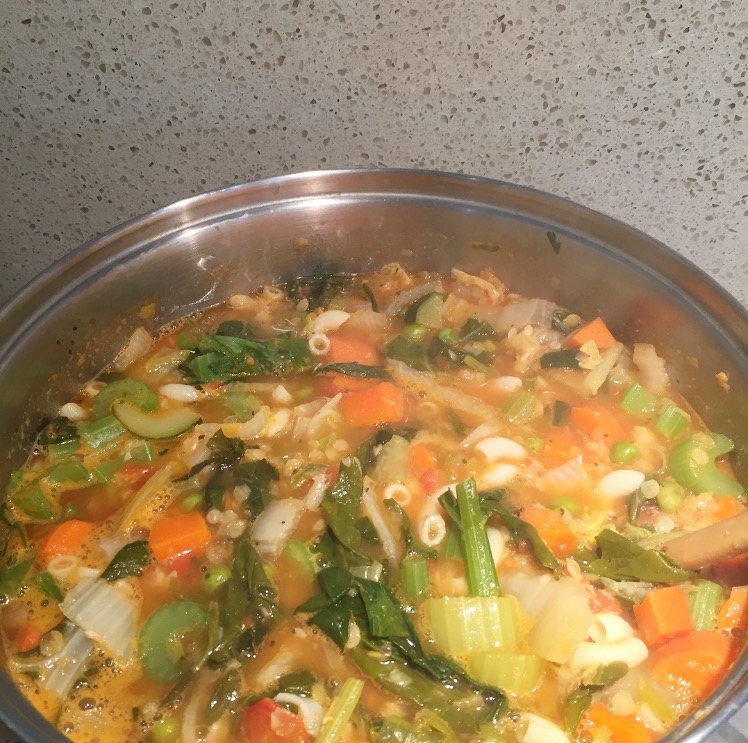 This is the basic formula. I find that I never make the same version of this soup twice. I always chop and change my veggies based on what's in the fridge. Some of my soups can have up to 10 veggies in it!
Ingredients:
3 carrots, diced.
2 small or 1 medium zucchini, diced.
1 leek, sliced.
4 stalks celery, diced.
4 stalks silverbeet, diced and shredded.
1/2 red or green cabbage, shredded.
1 small eggplant, diced.
2 generous handfuls of peas. I used frozen.
3 cups split red lentils.
2-3 handfuls of pasta. I like elbows for soup. Choose wholemeal or spelt varieties. I use gluten-free, because I have an intolerance.
2 tins diced tomatoes.
3 gloves of garlic, crushed and minced or 2 heaped teaspoons minced garlic.
Enough water to cover the soup – approx. 2L
Dried or fresh herbs of choice. I like basil and oregano in this. Add to taste.
Optional: Stock. I use a powdered vegetable or chicken (whatever is on hand). 2 teaspoons.
Salt and pepper, to taste.
Method:
Combine all the veggies in the pot and fry together with the garlic, until softened.
Add the tinned tomatoes and herbs. Mix well.
Add stock and cover the soup with water. Bring to the boil.
Add lentils and pasta. Mix well.
Cook, stirring often, until lentils and pasta are soft.
Optional: Add a ham hock to the soup when boiling to create a more smoky flavour.
Enjoy with a crusty slice of bread.